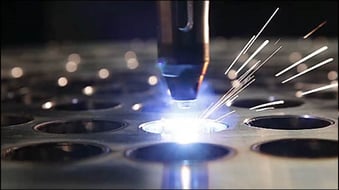 High-Power laser beam welding is shown in action.
Teresa Beach-Shelow founded Superior Joining Tech­nolo­gies, Inc. (SJTI) with her husband Thom Shelow in 1992. The business started in their garage and after four relocations because of continuous growth, it now occupies a 55,000-sq-ft. facility in Machesney Park.
While growing their business, Teresa noticed lasers being used as the next big advancement in manufacturing and knew her business needed these advanced processing tools. The company purchased its first laser for micro-welding applications and as this business grew, demand produced the need for a second micro laser. The company's focus has always been towards precision joining of metals, which led to the slogan "Joining with You." It now has five lasers in-house, ranging from a micro-yttrium aluminum garnet (micro-YAG) laser for welding to a multi-axis CO² 5 kW laser for cutting and welding.
Welding and Cutting Capabilities
In 2010, Teresa purchased a large Trumpf TruLaser 7040 laser cutting system to assist their own production schedule and bring outsourced laser cutting processes back in-house. This purchase opened the door for both multi-axis laser beam welding (LBW) and cutting of parts. SJTI now has a precision welding laboratory with unique capabilities to assist its existing customers and new customers. Why use lasers for welding, some may ask? Lasers reduce the heat-affected zone, as well as post or any secondary operation to the welded area. There is generally no need for grinding or weld recovery needed when using a laser to weld materials.
SJTI uses its lasers daily to manufacture parts for the aerospace, dairy, and medical industries. Laser welding is continuously improving and reinventing its uses in manufacturing. Laser welding is already in the next big phase of lasers now hitting the market with laser additive welding. This type of process is being used in all industries, including the aerospace market, which is moving closer to implementing this type of process. The company is preparing for its next laser purchase to stay competitive in the marketplace, and its welding and cutting capabilities achieve consistent results.
Examples of micro-welded components.

Examples of such precision are obvious with the welding of intricate assemblies for aerospace and medical applications. Micro laser beam welding (LBW) gives SJTI the ability to join components smaller than the human hair for customers across North America. The company has been able to serve customer needs by applying micro laser welding to join gear assemblies that are not much larger than the head of a pin. This is accomplished without compromising the hardened condition of the critical features of the gear.
Manufacturing Association and Community Support
Teresa's role as president stemmed from her background in finance and business. With her husband's welding and laser expertise, they started taking orders and networking their capabilities. With her dedication to the community and the future of the business, SJTI joined several manufacturing associations and started supporting local science, technology, engineering, and mathematics (STEM) events. She co-founded Women of Today's Manufacturing, an organization that raises scholarship funds for students to further their education in STEM-related fields. She continues to be involved with several manufacturing associations, held a board chair for the Fabricators & Manufacturing Association (FMA) in 2015, and is now being elected to the board for the Tooling Manufacturing Association (TMA) for 2018.
As president of SJTI, Teresa oversees the Quality Department, and has been involved with every ISO 9001, AS9100, and National Aerospace and Defense Contractors Accreditation Program (NADCAP) accreditation that the company has achieved. In 2017, Teresa and her team gained their second NADCAP accreditation for laser welding and fusion welding. This NADCAP laser welding accreditation has been issued to less than 20 companies in the U.S. They also achieved AS9100 Rev D later in 2017. SJTI continuously works to maintain and keep its high quality of accreditations for their customers. It was the first laser-approved supplier to the United Technologies Aerospace System (UTAS) for laser welding. Teresa assisted UTAS with writing the certifying documents during this approval process.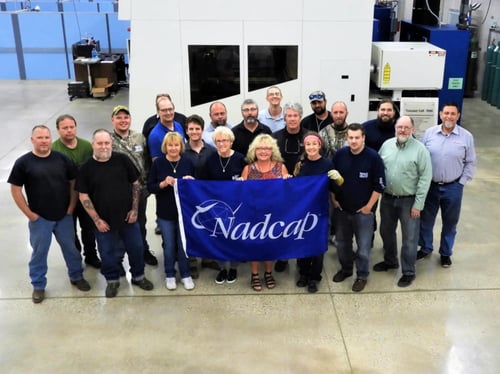 The SJTI team gained its second NADCAP accreditation for laser welding and fusion welding in 2017.
Despite her many recognitions as a co-founder and board member of numerous manufacturing organizations, as well as 20+ successful years of supplying the aerospace industry, Teresa is proudest of her volunteer work with young people and displaced workers, encouraging them to choose manufacturing as a career. As co-founder of Women of Today's Manufacturing, a northern Illinois-southern Wisconsin group, she created Manufacturing Camp, a one-week camp for teens, as well as camp scholarships. Her effort reached more than 100 regional students.
It grew into a nationwide project with nearly a dozen camps every summer when the Foundation of the FMA brought the effort under its wings. Now called "Nuts, Bolts and Thingamajigs," it has influenced nearly 4000 youths in 27 states.
Teresa and Thom now support several area robotic teams, Lego teams, and The Quiz Bowl (a high-school TV show), and Teresa dedicates her time to local Manufacturing Days, Engineering Days, and Career Days throughout the year. With such a large amount of manufacturing employees nearing retirement, SJTI feels that by involving the kids early on in STEM-related events sparks their interest in manufacturing and will hopefully enter the manufacturing industry to help offset some of the open positions manufacturing will have soon. By dedicating their time and open space to students of all ages who are interested in manufacturing, it gives them a type of assurance that they and all manufacturing companies will continue to have great employees with amazing capabilities for our future generation of manufacturing.
Women in Manufacturing
Teresa was recently interviewed and had this to say about the future of women in manufacturing:
"I encourage women to enter the manufacturing industry for the opportunities that are available, from the shop floor to upper management. Wage gaps are shrinking, and women are becoming more visible within the industry in higher management roles and ownership positions. Manufacturing is a career that gives immediate gratification of being part of a team that creates something and does not always require the traditional four-year degree, as training offerings can vary. The stigmas of manufacturing are going away with more programming and robotics being used throughout the shops."