Complex Precision Machining Services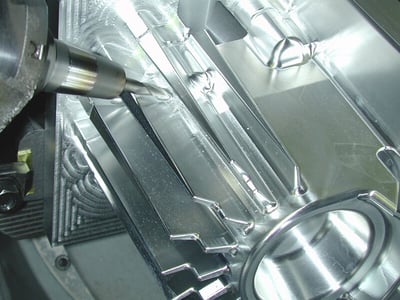 Superior Joining Technologies, Inc.has state-of-the-art machine tools, tooling and software. But expensive equipment won't make a chip without skilled personnel controlling the process. Our employees have many years of experience with broad knowledge of many industries, combined with deep skills in our areas of specialization. Our guys are so good that Superior Joining Technologies, Inc. is the company the machine tool dealers hire to develop a process for their turnkey sales.
Superior Joining technologies, Inc. also serves as a test and demo facility for machine tool manufacturers and cutting tool companies. They often request tours of our facility with potential customers to show efficient and Full 5 axis and multi-axis precision machining means Superior Joining Technologies, Inc. has NC controlled rotation of the spindle (B axis) and table (C axis). This enables us to: Our customers rely on our knowledge and experience to make their projects run smoothly, on time and on budget. We can often provide suggestions to improve their process or part manufacturability, yielding faster cycle times and improving part quality. effective use of equipment.
Do complex parts in one or two setups

> Machine on 5 sides of a part with one setup

> Saves set up time

> Reduces error
> Reduces fixturing costs

Use shorter cutters


> Faster feed rates
> Higher accuracy
> Better finish
> Less time hand benching

Reach geometry impossible to machine on 3 axis machines. Allows faster and cheaper completion of


> Prototypes
> Short run production parts
> Drilling holes with compound angles
Superior Joining Technologies, Inc. is in a unique position to help you with your toughest jobs. We have thorough knowledge of Autodesk's PowerMILL machining software to write the most effective toolpath. We have been working with DMG to push our machines to their full capabilities. Together, we have developed an efficient, accurate and cost-effective process that delivers superior results. Even for parts that could be machined on a 3-axis machine tool, multi-axis machining can be more cost effective by saving time on set up, fixturing and benching.
Give us a call, and send us your work. We know we can help you deliver it faster. You win new business, keep existing customers and stay profitable.
Aerospace Parts Machining
Superior Joining Technologies, Inc. uses all of the advantages of 5 axis machining to produce high quality precision machined aerospace parts. Increased speed and superior surface finish are achieved with fewer setups. Complex or ruled surfaces can be machined in one pass, speeding delivery. Compound angle holes and undercuts can be cut quickly and accurately. Using an integrated automated pallet system, we can use unattended machining even on high precision complex parts.

Working with your engineering staff, we can machine a functional prototype from a wide variety of materials to meet your design specifications. When the prototype has been developed and approved, we can use the knowledge, fixturing and machining strategies used to make the prototype to produce your part at a very reasonable cost. As required, we can utilize our extensive NADCAP supply chain for heat treating, plating, painting, and other required processes and finishes.
5-Axis Machining Specifications
Tolerances
As close as +/- .0002"
Materials
Aluminum - All grades
Tool Steel - All grades including tool steel, Finkl FX, D2, S7
Hard cutting of Tool steel up to 60 Rockwell
Stainless steel - All grades including 300 Series, 400 Series, 17-4PH, 15-5PH
Castings
Titanium
Tungsten
Inconel and other nickel alloys
Plastics
Nylons
Material Certifications
Provide complete traceability and documentation of product manufacturing to AS9100:2016, Rev. D and ISO9001:2015 standards
Machining Equipment List
Deckel Maho Gildemeister DMU 60 eVo Linear
Full 5 Axis CNC Universal Machining Center
Linear motor for each axis
Capacity: 25.6" X, 19.6" Y, 19.6" Z
Spindle Speed: 18,000 rpm
Laser tool setter and touch probe
Mikron UCP 600 Vario with Integrated Automation & 120 Tool Tower
Full 5 Axis CNC Vertical Machining Center
Capacity: 23.6" X, 17.7" Y, 17.7" Z
Spindle Speed: 20,000 rpm
Laser tool setter and touch probe
Deckel Maho Gildemeister DMU 100T
Full 5 Axis CNC Universal Machining Center
Capacity: 42.5" X, 28" Y, 28" Z
Spindle Speed: 18,000 rpm
Feed Rate: 591 ipm
Laser tool setter and touch probe
Deckel Maho Gildemeister DMU 125-P Hi-dyn
Full 5 Axis CNC Universal Machining Center
Capacity: 49.2" X, 34.5" Y, 34.5" Z
Spindle Speed: 18,000 rpm
Laser tool setter and touch probe
Deckel Maho Gildemeister DMC 125-U Hi-dyn
Full 5 Axis High Speed CNC Machining Center
Capacity: 49.2" X, 34.5" Y, 34.5" Z
Feed Rate: 787 ipm
Laser tool setter and touch probe
Deckel Maho Gildemeister DMU 80-P Hi-dyn
Full 5 Axis CNC Universal Machining Center
Capacity: 31.5" X, 27.6" Y, 23.6" Z
Spindle Speed: 18,000 rpm
Feed Rate: 591 ipm
Laser tool setter and touch probe