Laser Metal Marking Services
Traceability is critical to the supply chain of any manufacturer. It provides the ability to trace material to its point of origin, track production throughout, source replacement parts, and localize recalls or notices.
Streamline traceability with precision laser metal marking services from Superior Joining Technologies, Inc. (SJTI). As an Illinois-based laser etching company, we specialize in turnkey laser-marked identification and serialization of parts and assemblies for an array of industries.
High-Definition Bar Codes and 2D Data Matrix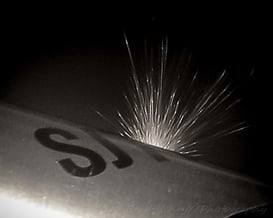 Superior Joining Technologies, Inc. (SJTI) is a laser etching company that provides high-definition Laser Marking with our Trumpf TruMark workstation. The workstation is truly a high-quality laser metal marking system with advanced programming capabilities and an integrated rotary axis providing the ability to perform full circumferential marking of cylindrical items. We have the ability to perform custom-laser marking on parts up to six inches in height with no restriction on the length. Marking can be made as small as 0.1mm (you will need a microscope to read it).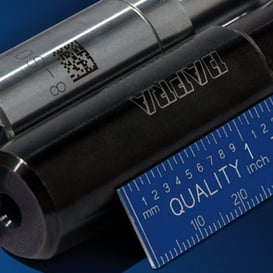 The laser has a diode-pumped ND YAG power source providing optimum marking conditions on a wide variety of materials. Among those materials easily marked are titanium, alloy steel, stainless steel, aluminum, ceramics, and several plastics. Barcodes and 2D data matrices are easily generated and can be marked to customer specifications.
An added feature of our marking process is that it does not disrupt the surface finish or change dimensions. Marking titanium, steel, and stainless steel is achieved by annealing the surface molecules of the material resulting in a lightly oxidized surface.
What is Laser Marking?
Laser marking is a process that uses a beam of concentrated light to create a lasting mark on the material. The focused beam targets only a specified area, allowing the laser-marking machine to develop precise, high-contrast marks that are easily read or scanned. It's a unique process that doesn't remove material. It heats the target area and causes oxidization. This results in a color change beneath the material's surface, leaving a permanent mark. Laser marking improves traceability, from basic part identification and branding to the ability to trace material to its original source.
This offers a variety of advantages.
Greater operational efficiency and productivity
Less waste and downtime
More visibility and accountability
Supply chain optimization
Minimizes quality and counterfeiting issues
Ensures compliance with industry regulations
Environmentally friendly
Traceability, Done Right
SJTI provides high-definition laser marking services with our Trumpf TruMark workstation. It's a precision laser-marking system with advanced programming capabilities. An integrated rotary axis can perform full circumferential marking of cylindrical items. Efficient yet versatile, this workstation has an array of custom laser-marking capabilities.
Characters up to six inches tall
No length restrictions
Markings as small as 0.1 millimeters
Clear, legible, and uniform characters
Barcodes and 2D data matrices are easily generated
Unlike traditional marking methods, laser marking is safe and non-contact. The laser beam isn't physically working the material to which it's pointed, so it can't disrupt the surface finish or change dimensions. By focusing on a pinpoint area, the surrounding material is not impacted.
Materials
Laser marking is an ideal traceability implementation method for a range of applications. The process is not hindered by object size and shape, or the type of material from which it's made. While we can mark just about anything, here's a list of materials we work with most often:
Aluminum
Tool Steel
Stainless steel
Castings
Titanium
Tungsten
Inconel and other nickel alloys
Plastics
Nylons
Laser marking is an environmentally friendly process. It doesn't use the chemicals or inks associated with traditional marking methods. Laser marking also uses less electrical energy than these other types of marking processes.
Industries Served
We specialize in laser metal marking services for a range of business sectors. Laser marking can quickly and easily adapt to the variations between industries and the materials they use. Our capabilities are perfect for the following industries:
Aviation
Aerospace
Space-related projects
Medical
Nuclear
Industrial
Maritime
Defense
We Stand Behind Our Work
Delivering an assembly comprised of dozens, if not hundreds, of components to market is a time-consuming and labor-intensive process. Many applications require the ability to tie apart to the place from which it came, and any trace loss can cause significant downtime and delay finished product delivery.
Maintain traceability of parts and assemblies by partnering with SJTI for laser marking services. Generally, outsourcing this process costs noticeably less than integrating it with an existing process, which requires equipment, floor space, and employee training. These savings are realized by reducing:
Labor costs
Overhead maintenance costs
Distractions
Redundancy costs
SJTI does the utmost every day to enhance process quality and performance. Through dedication and hard work, our company has obtained ISO 9001 and AS 9100 certifications. Also, we have earned National Aerospace and Defense Contractors Accreditation Program, or NADCAP, certifications for nondestructive testing, GTAW fusion welding, and laser welding. From a single part to prototype batches or full-scale orders, SJTI is your laser etching company.