Medical CNC Machining & Additive Manufacturing
Superior Joining Technologies, Inc. has been manufacturing high-quality components for more than 25 years. All of our parts and components are delivered with tight tolerances and precise finishes. Precision and reliability are especially crucial when manufacturing medical components and parts. When a machined or printed part is being used in a life-saving medical device, there is no room for error.
We are committed to supporting the medical device supply chain, which is currently experiencing unprecedented demand. Our precision machined parts are produced using the latest technologies, including CNC machining and 3D printing capable of supporting the need for high-quality medical device components.
The Capabilities of CNC Machining
CNC machining is a precision manufacturing process that utilizes pre-programmed computer software to run the movement of machinery and other factory tools. This process allows for greater control over machine tool functions with little involvement from human operators or the risk of human error.
CNC machining is similar to 3D printing in that machines produce the components based on human design and input. But CNC machining offers the advantage of a wider range of materials, better precision, higher quality, and faster processing times than 3D printing. The medical industry, in particular, can benefit from the utilization of these machined parts with their superior accuracy and quality.
SJTI utilizes top-of-the-line full 5 axis and multi-axis machines for the creation of a variety of healthcare-related parts, including cardiovascular and orthopedic devices, surgical instruments, and medical screws. Our six full 5 axis machines are capable of producing the highest quality precision machined parts with increased speed and superior surface finish.
Additional examples of CNC machining applications in the medical industry are listed below:
Medical implants
Testing & analysis components
Medical instrument components
Respirator device components
Ventilator components
Drug deliver components
Pump components
Complex multi-component assemblies
Precision shafts
Brass inserts
Spacers
Fittings
Valves
Capstan
Cough assist
Oxygen Sensor
Blower Mounting
Bulkhead
Flexure
Precision Spacer
The Capabilities of Medical Additive Manufacturing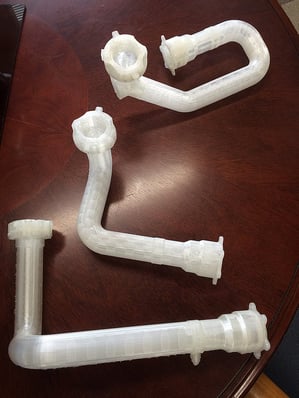 In addition to the amazing capabilities of CNC machining, at SJTI, we also employ additive manufacturing techniques when needed. We utilize state-of-the-art 3D printer technology where applicable for prototyping and small printing jobs.
Additive manufacturing, or 3D printing, builds a three-dimensional object with the assistance of a computer-aided design model. Additive manufacturing facilitates rapid prototyping, provides an economical method of producing complex assemblies for molded products, and offers versatility in manufacturing.
Additive manufacturing is especially useful for the medical industry where a small production run of a thermoplastic or resin part is needed with a quick turnaround time.
Medical additive manufacturing such as surgical mask clips can be easily and rapidly produced in a cost-effective manner with medical additive manufacturing services. Other medical parts that can be created using 3D printing include implants, surgical tools, and prosthetics.
Materials
At SJTI, we have produced custom and unique parts for a variety of industries, with everything from standard steels to exotic materials.
Some of the materials we typically work with include:
Aluminum
Carbon steel
Stainless steel
Titanium
Inconel
Monel
We offer a wide variety of materials for CNC machining applications in the medical industry, including the most commonly used plastics, metals, and nylons.
The STJI Difference
SJTI holds AS9100 and ISO9001 certifications and is a NADCAP-accredited facility and service provider with processes that are trusted and approved by Boeing, GE, Unison, Collins Aerospace, and Safran. Our proven history as a trusted source for quality components demonstrates our ability to meet the unique needs of medical equipment manufacturing.
We are diligently working to meet the needs of the medical community during this unprecedented pandemic. The production and delivery of machined parts for medical devices will be accelerated and prioritized to help meet the current increased demand.
Our #1 priority is to continue to serve our customers, and our hope is that this global crisis will soon be just another memory of a time when we overcame it together. Give us a call today to see how we can help you with your CNC machining or medical additive manufacturing needs.