Micro GTAW Welding Services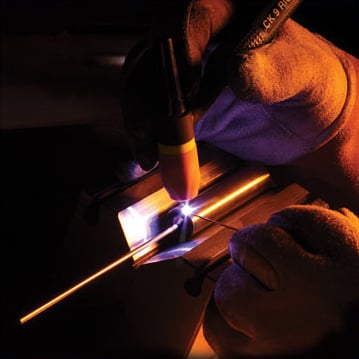 Superior Joining Technologies, Inc. (SJTI) provides micro precision TIG welding services. This process can be used in multiple applications within aerospace, medical, laboratory, and commercial projects. With over 25 years of experience, our team is capable of running prototypes to production quantities for your company.
Superior Joining Technologies, Inc. has the experience and expertise to perform the most microscopic of welds using our Micro TIG Welding Services. We have a fully equipped welding lab dedicated to micro-weld production and design modifications.
What is Micro Tig Welding?
Microscopic Tungsten Inert Gas (TIG) Welding is a welding process that utilizes a microscope with 40X magnification and a specialized microscopic TIG torch for micro-precision welding. This welding process is ideal for small, intricate welds that cannot be performed using normal TIG welding processes. Micro TIG welding is also useful in areas where the risk of warping in the heat-affected zone must be reduced. This is accomplished with low amperage inputs and small diameter wires. Filler material wires can also be used during this process to build reliable welds and can go down to .005".
Is Micro TIG Welding Right for You?
At Superior Joining Technologies, Inc, we help our customers determine if their projects are the right fit for micro TIG welding. As part of the Micro GTAW welding services, we always provide pre-heating to help prevent cracking. Additionally, we keep filler materials in stock to match the base metal material quickly with no time lost on material orders.
Micro TIG Welding Advantages
Achieve a deeper penetration
Reach difficult areas
Durable and discrete welds
Lower cost than remaking the damaged part
Faster and less expensive than laser welding
Welds as small as .010 mean less machining is needed.
Micro TIG Welding Applications
Micro-weld repair can be used in a variety of applications. A popular use for Micro TIG welding is the repair of detailed features on plastic injection and die-cast molds. Other applications include:
Commercial projects
Intricate fabrications and assemblies
Connectors and electronic devices
Firearm welding
Medical devices
Tool assemblies
Electronics
Dental
Miniature assemblies
Industries Served
Automotive
Aerospace
Marine
Medical and dental
Defense
Food
Laboratory
Commercial projects
Materials We Work With
We work with the following materials when completing our micro TIG welding services.
Aluminum
Carbon steel
Stainless steel
Titanium
Inconel
Monel
The SJTI Difference
At Superior Joining, we have nearly three decades of experience successfully executing Micro TIG welds. Our precision welding technique keeps shrinkage and heat distortion to a minimum. We work with our customers to provide quick turnaround times. Our production capabilities range from prototypes to production quantities. Superior Joining Technologies, Inc. is certified AS9100 and ISO9001. Our Micro TIG welding process is covered by our Nadcap Accreditation along with being approved by Boeing, GE, Unison, Collins Aerospace, and Safran. We are proud to be a woman-owned company.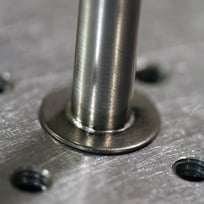 SJTI provides a welding service of repairing minute-detailed features on plastic injection and die-cast molds. We are using a Miller Maxsta. In addition to micro GTAW welding, we also offer manual GTAW and longitudinal seam GTAW welding. r 152 inverter welding power source with a modified 5240 Olympus stereo microscope. These key components are supported by a fully equipped welding lab dedicated to micro-weld repair. This enables our staff to perform intricate build-up operations that allow the customer to recover valuable time and expense. Repairs of this type are typically a result of design modifications or machining errors. Micro-weld deposits are readily machined to leave no evidence of the weld operation. We keep a full inventory of tool-steel filler materials in stock in a variety of sizes for a wide spectrum of applications.