Longitudinal Seam Welding Services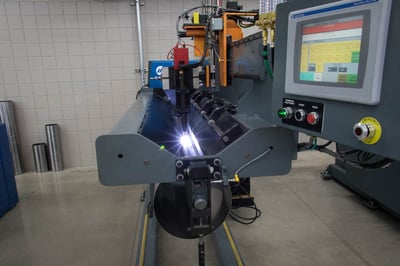 Longitudinal Seam Gas Tungsten Arc Welding (Longitudinal Seam GTAW) at Superior Joining Technologies, Inc. (SJTI) is an automated process that produces full penetration welded seams in sheet metal components with the Gas Tungsten Arc Welding (GTAW) method.
Thicknesses range from .010" to .188"
Diameters from 2.00" to 48.00" (and beyond with special consideration) and flat sheet as well.
Lengths can vary up to 60.00" long.
Post-Weld Planishing is available as required.
Materials include, but are not limited to, carbon steel, stainless steel and aluminum.
SJTI is offering Longitudinal Seam GTAW in combination with our well-established support services such as Certified Weld Inspection (CWI) services in compliance with the AWS, as well as Non-Destructive Testing (NDT) processes fully NADCAP accredited by PRI—including Penetrant Testing (PT) and Magnetic Testing (MT). Let us provide Longitudinal Seam Welding services for your roll-formed, flat sheet and strip materials, or let us form it for you here. We are ready to serve you with high level quality and rapid response times.
Contact Us for a quote on all your longitudinal seam welding services.

Sheet Rolling
Sheet rolling is a value-added service we offer in conjunction with our Longitudinal Steam GTAW and Circumferential Seam Welding services to fabricate custom pressure vessels as used in aerospace applications. We can handle materials from 0.010" thick stock 60" wide, for diameters from 2.00" to 48."