Micro LBW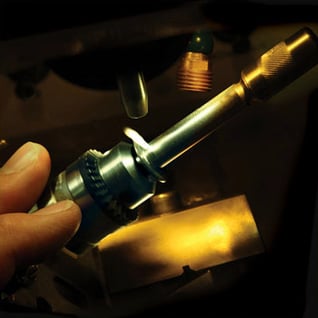 Micro laser beam welding is the process of creating microscopic welds through the use of laser light. Micro laser beam welding, also known as micro welding, uses a light source to heat only a specific area, quickly melting and fusing the desired parts together. Micro welding is necessary to maintain precision on small pieces that would otherwise not be possible. This simple but versatile form of welding is a game-changer for a variety of applications throughout the medical, automotive, and aerospace industries.
Micro laser beam welding has various methods to achieve different welds. Conduction mode welding uses a low energy level, forming a wide but shallow weld. Keyhole mode welding creates a weld that is deeper in comparison to its width, unlike conduction mode. Scanner welding and seam welding are two more methods, all of which are used in various applications depending on the parts being joined.
Microscopic laser beam welding (Micro LBW) projects a nanometer-diameter beam of light to fuse different metals together. Any variety of materials including copper, steel, stainless steel, brass, silver, gold and platinum can be joined. Superior Joining Technologies, Inc. (SJTI) maintains the proprietary microscopic welding processes to deliver the best possible solution to the military and aerospace industries.
Micro Laser Beam vs. Laser Beam Welding
The main difference between laser beam welding and micro laser beam welding is simply that micro welding is for small components that cannot be precisely done without a direct light source. Micro welding is also performed at a much lower amperage. This low amperage, paired with extremely fine control, makes for a precise weld on even the smallest parts.
Applications of Micro Welding
Micro welding methods vary depending on the application, but overall, every industry can benefit from laser micro welding services. Superior Joining Techniques commonly works with industries such as aerospace, aviation, medical, industrial, nuclear, defense, and maritime.
Common applications of micro welding include but are not limited to:
Heat exchangers

Metal boxes

Metal tubing

Fuel rails

Medical devices

Dental instruments

Compressor parts
Benefits of Micro Laser Beam Welding
The benefits of micro welding go beyond the ability to weld extremely small parts. Because the heat source is direct and rapid with a quick cooldown, worries regarding contortion and damage are eliminated. Micro laser beam welding allows for a precise weld even on microscopic pieces, maintaining integrity and avoiding any complications from standard welding strategies. Micro welding is also convenient because of the various methods available, allowing for the most reliable joining of any parts when done properly. Superior Joining Techniques can help determine the proper method for your needs.
The Superior Joining Difference
Superior Joining Technologies was NADCAP Accredited in July 2008 and has conformed to ASTM-E 1417 Standard Practice for Liquid Penetrant Inspection since May of 2007. Their processes have been approved by Boeing, GE, Safran, Collins Aerospace, and Unison. Their team of experts provides laser micro welding services, inspection services, cnc machining services, and much more. Due to the custom nature of microscopic welding, please contact us for a quote.