Laser Beam Welding Services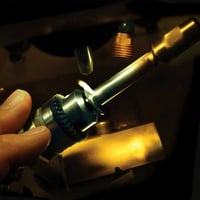 NADCAP Registered Laser Beam Welding (LBW) employs a precisely focused beam of light to fuse metals together. A wide variety of materials including copper, steel, stainless steel, brass, silver, gold and platinum can be joined by the energy produced by the laser process. Among the most notable advantages of laser joining are the low input of heat and the ability to join intricate and even microscopic assemblies. The highly experienced staff of Superior Joining Technologies, Inc. (SJTI) offers high quality laser beam welding services and continually leverages their expertise of precision welding to deliver the best possible solution to each customer's unique design specifications.
Super Joining Technologies is Nadcap accredited for laser beam welding.To obtain a quote from SJTI, please click here.
NADCAP Laser Beam Welding (LBW) Services