Since its founding, Superior Joining Technologies has developed into a highly technical and precise welding operation serving any industry that needs high quality laser welding, fusion welding, non-destructive testing, and CNC machining.
Utilizing 3D Printing Capabilities To Solve Manufacturing Challenges
Additive manufacturing, or 3D printing, has been used more and more throughout the manufacturing industry to provide prototypes for performance testing. Before finalizing a stainless steel thing wall tubing assembly for an aerospace client, Superior Joining Technologies utilize their additive manufacturing capabilities to create a 3D printed part of the thin wall tubing that the customer desired. The 3-D model ultimately helped Superior Joining design the part's manufacturing process and ensure that a high quality and precise part is manufactured.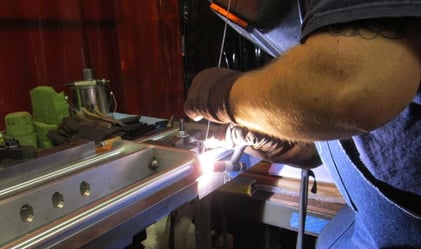 "Being able to use the 3D printed part for our tooling and the verification of the part in the end for reference was important, so our 3D part was used up until we shipped the final welded assemblies," Beach-Shelow said. "The 3D printing validates several things for Superior Joining, the customer, and our suppliers that needed to [apply] a specific process to the parts. The same fixture allowed the EDM supplier to verify access to the part where they needed to get to. The fixture was also able to be used by our welders. The fixture held the part in place, allowing the welder to perform the weld while keeping the part stable and reducing heat transfer, which can tend to move other parts of the material during the welding process."
Superior Joining Technologies proudly attends and exhibits at the Design-2-Part trade shows annually. To read more about our story on D2P Magazine, please click here.