The Northern Illinois University (NIU) Supermileage team recently earned their highest placement yet at the 39th annual Society of Automotive Engineers Supermileage Competition. The event put the team up against 19 other big-name universities across the world in Marshall, Michigan.
An event similar to the more recently established Shell Eco-Marathon Americas international competition, the goal is to design and build the most fuel efficient, single occupant vehicle in a number of different categories. The team's run brought home a second overall placement, while also earning the Fuel Mileage Prediction Award and the Endurance Award. Another exciting win included recording a 1,888 mile per gallon rating—a new team record!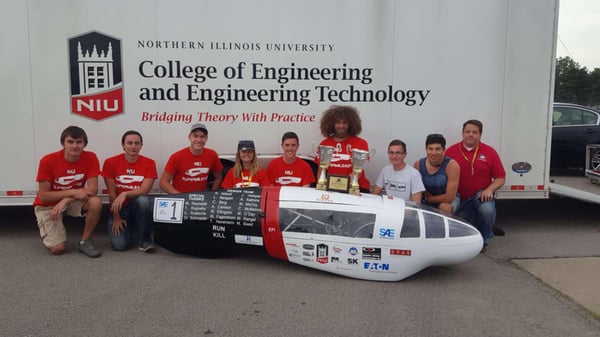 Superior Joining Technologies, Inc. (SJTI) is proud to be a sponsor to the NIU Supermileage team, offering welding and other services that the team may not otherwise have access to. To read more about how the NIU Supermileage Team did at this competition, visit the NIU Newsroom to read "Here Comes NIU: Supermileage Team a Force to Be Reckoned With."